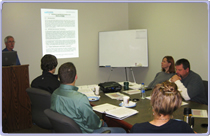 Learn how to treat water in our one day course.
Passive treatment of construction stormwater run-off is the most simple and cost effective chemical method for removing suspended solids available. For those new to water treatment or those looking for creative solutions to stormwater quality we have developed this unique course which covers a variety of new passive treatment techniques and how they are incorporated into sediment management plans.
This one day training session consists of conceptual and hands on elements in the classroom, field and lab. Contact Dungeness Environmental to request a course.
All are welcome to register for this course. Dungeness recommends that attendees have a desire to learn and have a basic understanding of the following:
Conventional site best management practices
Stormwater general permit
Our 4-Hour Classroom Portion Covers:
Construction Site Stormwater Regulatory Background and Permitting
Water Treatment Chemistry Using Chitosan
Stormwater Treatment Methods
Passive Treatment Planning
Passive Treatment Design Considerations
Passive Treatment Equipment
Operations and Maintenance
Residual Chitosan Testing
Treatability
Our 4-Hour Field Portion Covers:
Field Demonstrations
Routine Maintenance
System Optimization
Monitoring and Sampling
Chitosan Dose Rate
Troubleshooting
Back to Applications
Operations and Maintenance Manuals
Become familiar with active stormwater treatment. Request a Chitosan Enhanced Sand Filtration Operations and Maintenance Manuel.
A beginners guide to the art of passive treatment. Request one today and get started treating water tomorrow.
Contact Us: Dungeness Environmental Solutions, Inc.
909 SE Everett Mall Way
Suite A119
Everett, WA 98208
Phone: 425.481.0600
Fax: 425.481.5253
info@dungenesssolutions.com