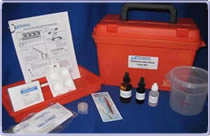 Field Test Kit for the Detection of ChitoVan Chitosan Acetate and Chitosan Lactate
Chitosan treatment has proven to be a safe and effective treatment technology for the purification of construction stormwater.  As long as ChitoVan™ products are used properly no residual chitosan will be present in the effluent waters.  However, since concentrated chitosan can exhibit aquatic toxicity on rainbow trout in clean laboratory water, it is important to know if there is chitosan in the stormwater after treatment and filtration.  A review of the 15th edition of Standard Methods and EPA's test method manual (SW-846) revealed no test methods for low-level chitosan analysis in water.  10 major analytical laboratories were consulted also and none were able to test for low-levels of chitosan.  Consequently, Dungeness Environmental has developed two quick and easy to use colorimetric iodine spot field tests for the qualitative analysis of chitosan acetate and chitosan lactate.
The test kit was recently improved to allow for quicker and easier presence/absence detection of chitosan. The chitosan acetate kit tests for concentrations greater than or equal to 0.2 ppm and the chitosan lactate tests for concentrations greater than or equal to 1.0 ppm.
Each kit includes:
1-liter beaker
140 ml luer lock syringe
Swinex filter holder
100 pk of filters
Filter holder
Iodine solution
Color enhancement solution
ChitoVan standard solution
Test kit instructions
Material safety data sheet
Watertight storage container
Back to ChitoVan
Contact Sales
425.481.0600Phone:
425.481.5253FAX:
info@dungenessenviro.com